3-D moulded biocomposites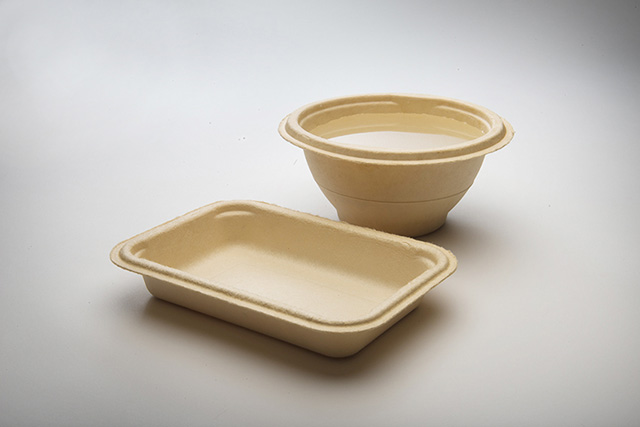 ---
"
With the newly developed moulding technology, large products with outstanding surface quality and structural strength can be produced
---
Moulded paper has been used for application such as egg cartons for since decades. However, the demand on surface finish and functionality has been low on these products resulting in soft materials and rough surfaces.
Recent improvements in paper moulding technology has however resulted in a verity of new packaging products, including moulded paper cups, bowls, and high quality packages with smooth surfaces. 
The products developed has so far been rather small in size and with limited strength. When the demand on hydrophobicity has been high such in cups, plastic coatings have been used. OrganoClick has by combining state-of-the art moulding technology with its technologies for modification of bio-fibers developed a new range of moulded fiber composite products. The new technology enables the production of large items, up to 2 meter in size with high strength and stiffness. When using OrganoClick´s different technologies, the product can be tailor made to resist water, fire and/or fungal attacks and decay. Applications include burial coffins, furniture, interior panels for vehicles, etc.
Eco-innovation project – Fiber composite
In august 2012 OrganoClick started a project called Fiber composite which funded by the EU in its Eco-innovation program. The project aims at developing and market introduce a moulded burial coffin, made of bio-fibers modified with OrganoClick´s technology to comply with the high demands put upon a burial coffin. The coffin needs to have a high degree of strength, it needs to withstand both dry, humid and cold conditions, and it also needs to burn in a controlled speed during cremation. To read more about the project, please go to the projects page.