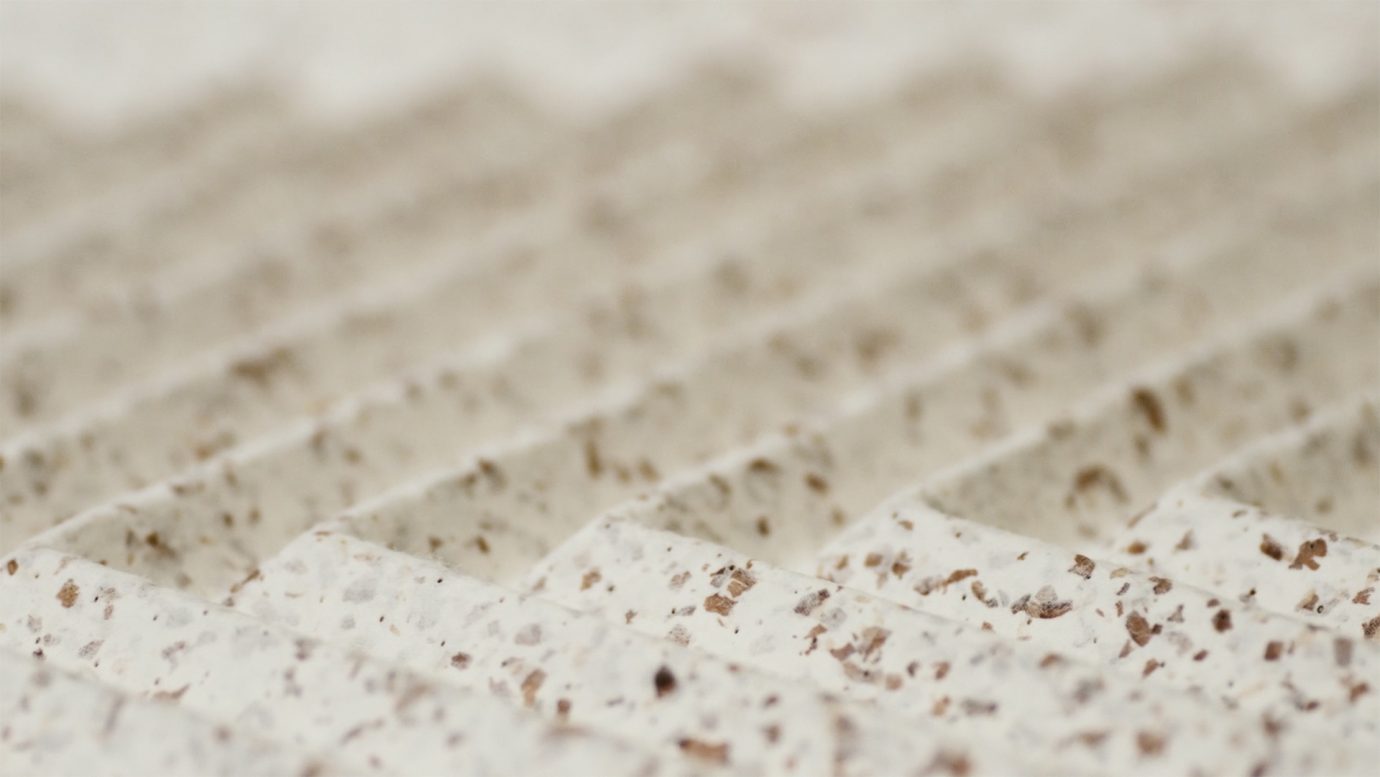 Biodegradable biocomposites from wheat bran and cellulose.

The green materials of the future.
Plastic. A fantastic material – but also one of the world's greatest environmental problems. It takes thousands of years to break down and as soon as it has broken down, microplastics are formed which disperse into nature causing damage to ecosystems. With our patented technology for modifying cellulose, we have developed our biocomposite OrganoComp®. It consists entirely of cellulose fibres and our compostable binders based on residual streams from the food industry, which makes our biocomposite 100% biodegradable, renewable, and toxin-free. We see a substantial number of applications where our biocomposite could replace materials that are not ecologically sustainable.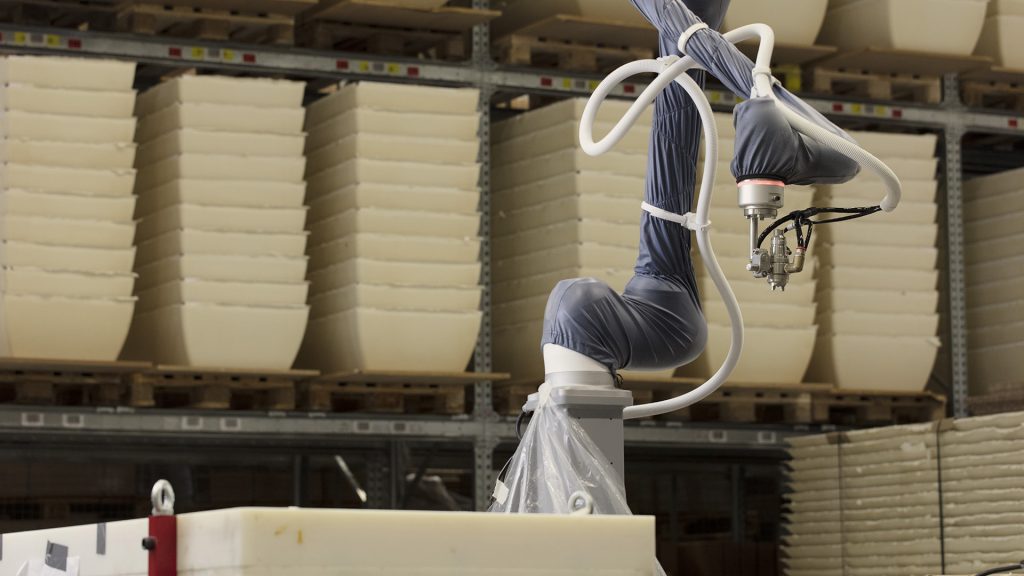 Manufacturing the world's first moulded coffin, Saga, with our 100% biodegradable biocomposite OrganoComp®.
OrganoComp®: lighter, stronger, 100% biodegradable.
Our biocomposite OrganoComp® consists of cellulose fibres, our biobased binders and water repellent substances. This makes it 100% biodegradable and completely non-toxic – neither does it add fossil-based carbon dioxide to atmospheric synthetic materials. The cellulose that plants produce from photosynthesis is one of the Earth's most common building blocks, but the vast majority of all cellulose is not used. Our material is based partly on cellulose and biopolymers from residual streams in the food industry such as oat shells and wheat bran that would otherwise be incinerated.

Products made from our biocomposite are manufactured with our very own production technology for 3D forming. The properties of the materials can be designed and given different degrees of mechanical strength, water repellence, and porosity. They are used in Baux sound absorbers and in the biobased, material-efficient coffin, Saga, by undertakers Fredahl Rydéns. There are many more applications where our biocomposites can replace traditional materials, and due to our bio-based adhesives, we can efficiently replace hard plastics, chipboard and other materials that contain plastic-based adhesives.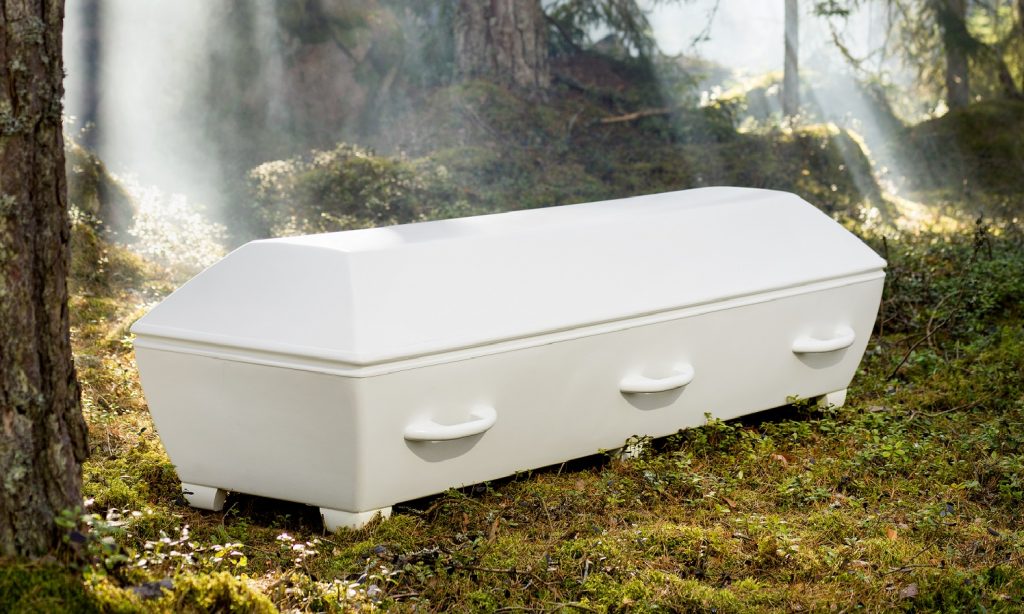 The Saga funeral casket: 50% less materials and entirely biodegradable.
Together with the Nordic region's leading coffin manufacturer Fredahl Rydéns, the Saga coffin has been developed with the use of OrganoComp. The material replaces conventional chipboard that contains synthetic glue. With our technology, material use is also reduced by up to 50%. This saves trees and reduces emissions. The coffins are sold by Fredahl Rydéns in Scandinavia through most privately owned funeral homes. For more information, visit Fredahl Rydén at www.fredahlrydens.se.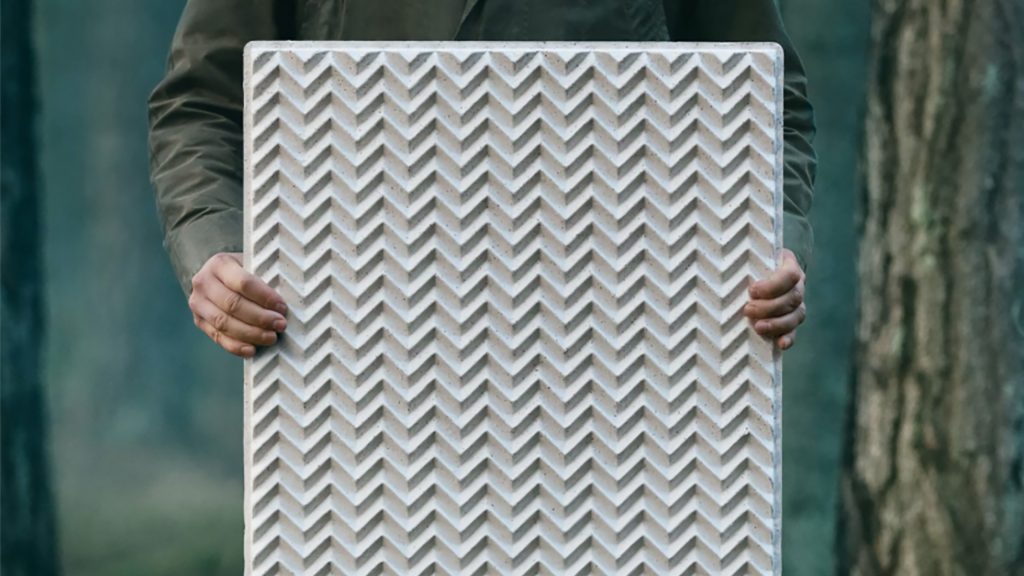 The Acoustic Pulp panel: design, function, and environment in one.
Together with Baux, a fast-growing acoustic products company, we have developed the sound-absorbent panel Acoustic Pulp. The panel is used in office landscapes and public environments to reduce noise. Combining cellulose fibre and wheat bran creates a strong and light material that can replace fibre cement and thereby reduce CO2 emissions. The design of the material and the product creates excellent sound absorption and sound refraction. For more information, please visit the Baux website at www.baux.com.
Applications
Our 100% biobased biocomposite OrganoComp can be used to replace hard plastics, MDF boards and other chipboards in a variety of applications. Our material concept and production technology provide the greatest benefit when light, large 3D-shaped structures with more demanding functions are needed. Working closely with our customers, we have developed OrganoComp and optimised it for a number of different applications.
Want to know more? If you are interested in these product areas, or if you have other ideas that you would like to explore with OrganoComp, we would love to hear from you. We are continually developing new applications, materials, and solutions for a sustainable future. Perhaps one of them is just what you've been looking for.
Performance materials.
Inspired by nature.