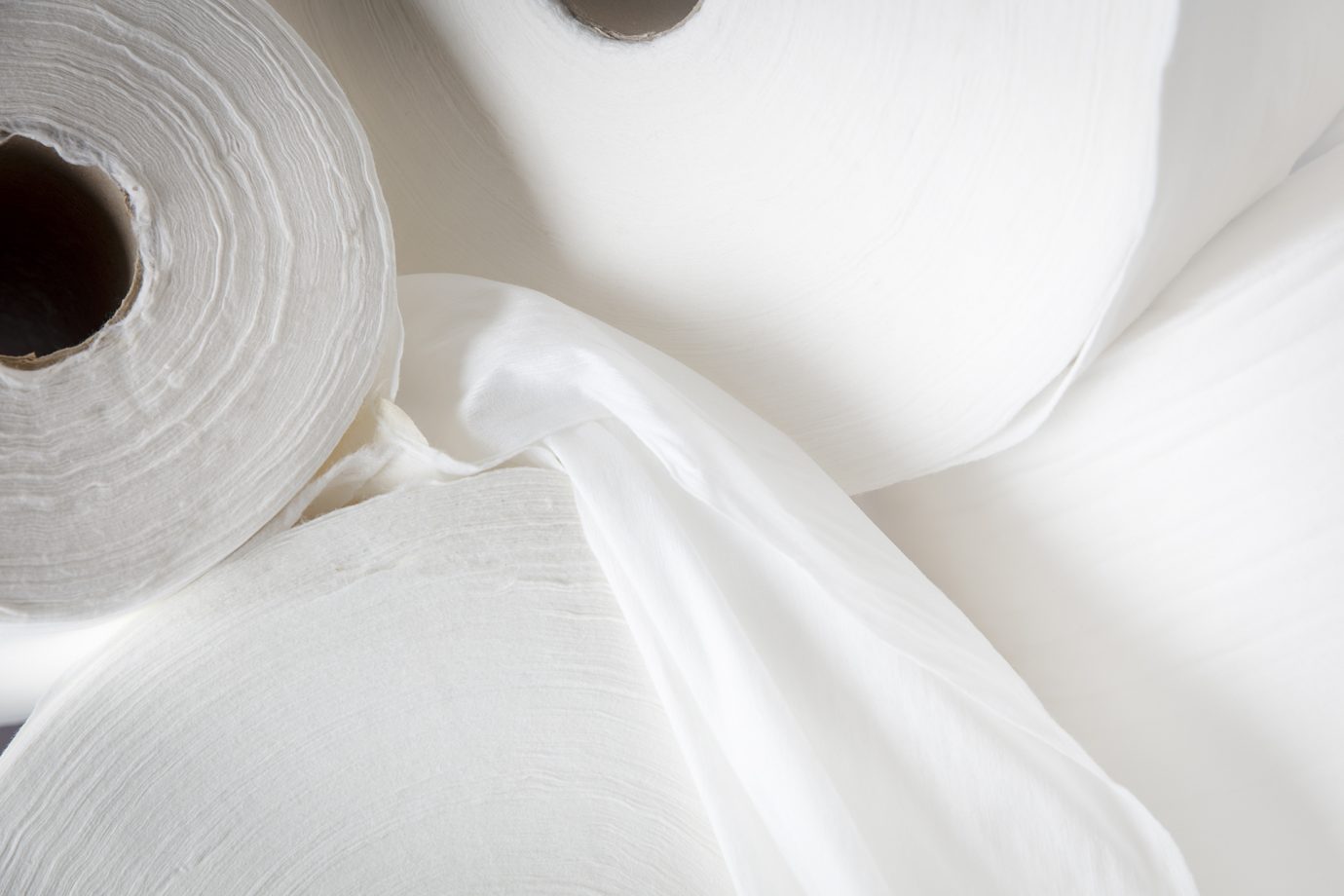 OC-BioBinder™: biobased binder for nonwoven and technical textiles
Binders are used to improve the mechanical properties of nonwoven and technical textiles. Properties that can be improved are dry strength, wet strength and dimensional stability with varying degrees of stiffness or softness. Common binders are mainly made of fossil plastic polymers such as ethyl vinyl acetate (EVA) and acrylates.

OrganoClick has developed the 100% biobased binder OC-BioBinder™ which is based on biopolymers from residual streams in the food industry such as orange peel, shrimp shells and wheat bran. With the help of our biobinders, nonwoven and technical textiles can become 100% biodegradable, non-toxic and 100% compostable.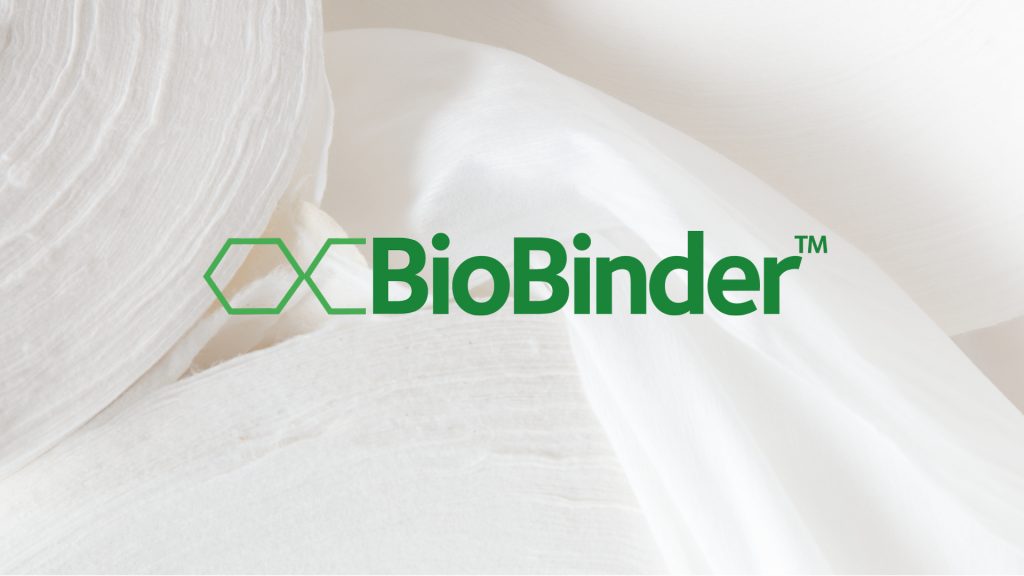 Product range
Biobased binder for nonwovens and technical textiles
Today, we offer a number of different binders with different mechanical properties. Our binders are available in varying degrees of softness, (Tg), with different degrees of dry and wet strength, and that are hydrophilic or hydrophobic. We also offer binders that improve fire protection.
The binders have different viscosity and content and can therefore be applied to nonwoven or textile materials in different ways. Our binders are water-based and are applied to materials by spray impregnation, dip impregnation or coating. After application, the fibre-based material is dried and cured at elevated temperatures.
Readily biodegradable
Our binders are classified as having "ready biodegradability" according to OECD 301A, and can be used to produce 100% biodegradable and compostable nonwovens. Our biobased binders can also be used on woven textiles to increase rigidity and prevent wear, which makes it suitable for the manufacture of sunscreen or home textiles.
Adapted for different nonwovens
Our biobased and biodegradable binders are adapted for several different nonwovens and speciality papers such as airlaid, wetlaid, spunlace, spunbond, carded, and drylaid. We have binders that can be used with most types of fibres, such as natural fibres from wood, cotton, viscose, hemp and pulp. We also produce compostable binders that are adapted for synthetic fibres such as polyester, PLA, mineral fibres, glass fibres and blended fibres. Today, our binders are used in airlaid napkins and tablecloths, wetlaid agricultural sheeting, wetlaid hygiene products, and in knitted textile inserts.
See the table further below that describes our various binders and their properties. You can as also download technical data sheets as PDFs.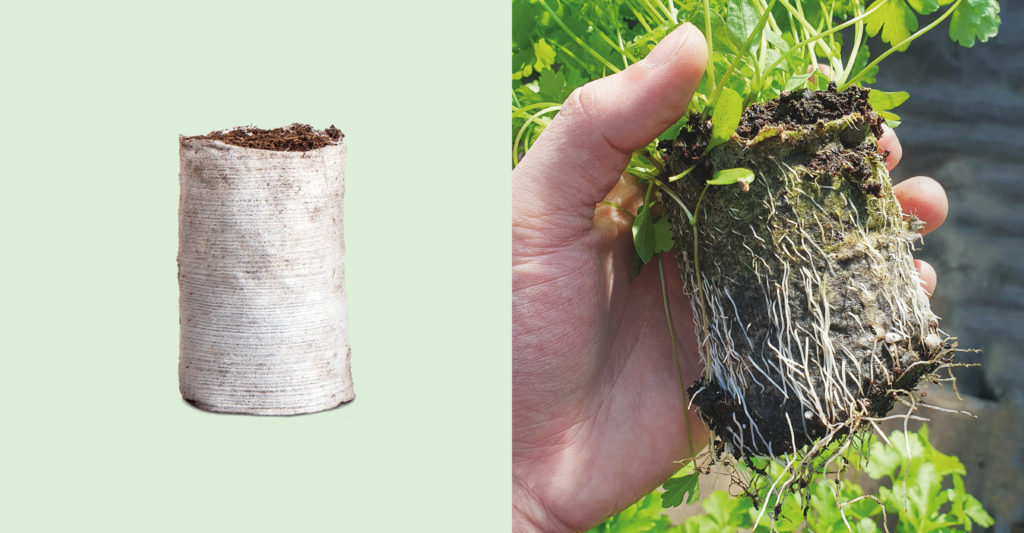 100% fossil-free and 100% home compostable nonvowen materials.
With our 100% biobased and biodegradable binder for nonwoven OrganoClick are currently involved in a large number of late-stage development projects together with our customers.
Duni is a great example. For many years we have been developing a binder that could be used for airlaid table-top products. During 2021 we achieved the high performance qualities that we and Duni where aiming for and Duni could launch the world first entirely fossil-free and 100% home compostable premium napkin for the restaurant industry.
Together with Ellepot and Ahlstrom-Munksjö, we have collaborated for several years to develop 100% biobased and biodegradable nonwoven based plant pots for the horticulture market. Key for making product 100% compostable has been to replace the traditional plastic binder in the nonwoven material with OrganoClick's 100% biobased and biodegradable binder. Launched by Ellepot in 2021, the Organic 2.0 paper pot is a completely organic product for growing crops on an industrial scale. The new product has allowed the companies to enter the organic crop segment, which is expected to grow exponentially in the coming years. Unlike other similar growing pots on the market, Organic 2.0 paper pot does not contain any hidden plastic, and therefore does not add microplastics to the soil.
OC-BioBinder™
product
Softness
Stiffness
Dry
strength
Wet
strength
Character
Fire
protection
Application
method
Typical
applications
Lily
Soft
++
++
Hydrophilic
No
Spray,
impregnation
Airlaid,
wetlaid,
carded
Clover
Medium
++
+
Hydrophilic
No
Spray,
impregnation
Airlaid,
wetlaid,
carded
Pine
Stiff
+++
+
Hydrophilic
No
Spray,
impregnation
Airlaid,
wetlaid,
carded
Oak
Very stiff
+++
+++
Hydrophilic
No
Spray,
wetend
Wetlaid,
carded
Lotus
Stiff
++
+++
Hydrophobic
No
Spray,
impregnation
Wetlaid,
carded
Olea
Medium
+
+
Lipophobic
No
Spray,
impregnation
Airlaid,
wetlaid,
carded
Ashtree
Medium
++
+
Hydrophilic
Yes
Spray,
impregnation
Airlaid,
wetlaid,
carded
Performance materials.
Inspired by nature.