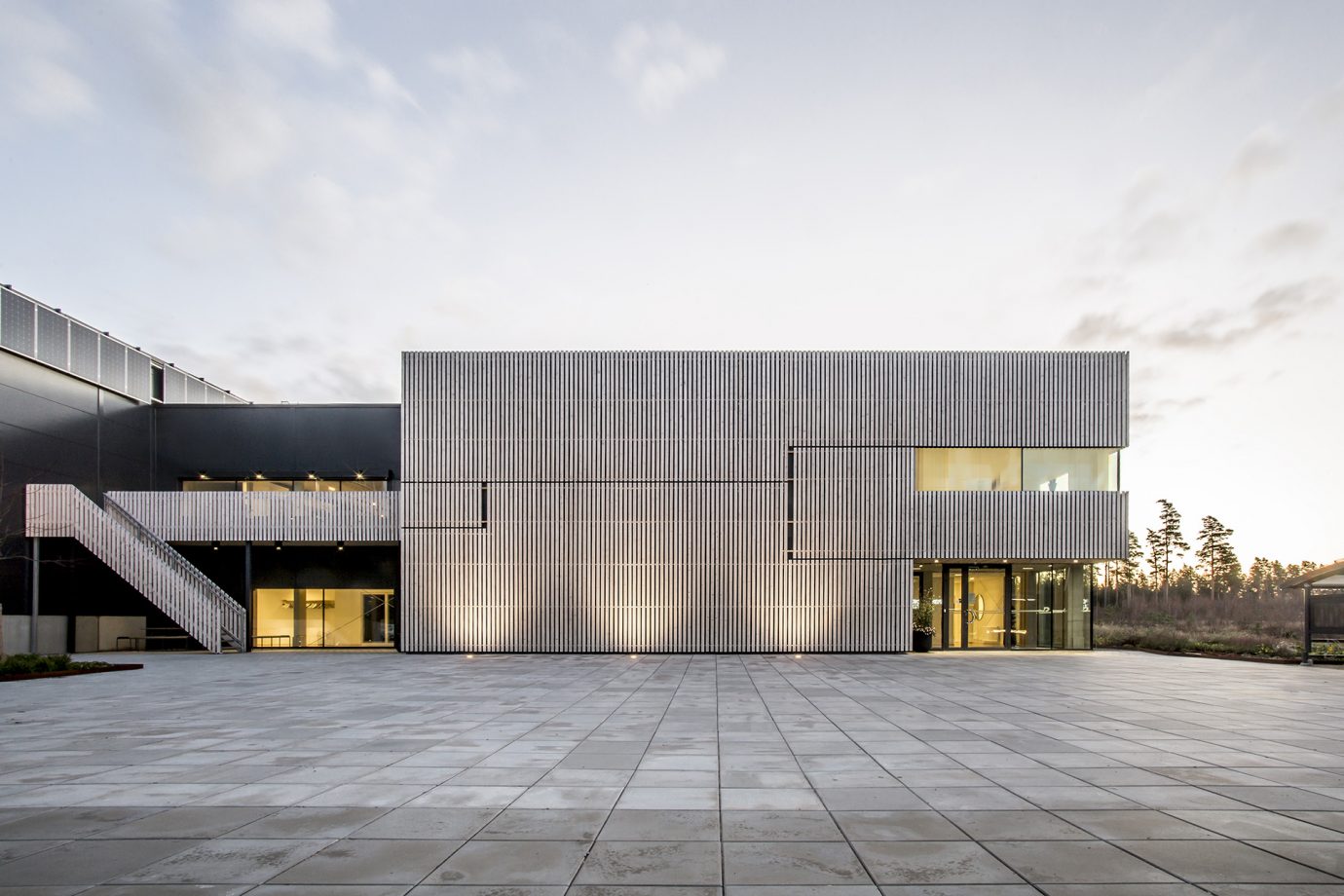 Research, research, research. And then: the breakthrough.
The OrganoClick story starts back in the 1990s when Professor Armando Córdova and Associate Professor Jonas Hafrén were doctoral students at the Royal Institute of Technology and the STFI-Packforsk research institute, (now RISE). Armando studied enzymatic modification of cellulose and Jonas studied fibre structures and morphology.

After Armando worked as a doctoral student at the SCRIPPS Institute in the US, researching organocatalysis, he entered into a collaboration with Jonas who was conducting research in France and set about developing a method to modify biofibres. Ten years later, they made the breakthrough that led to the filing of OrganoClick's first patent in 2004. Two years later, Armando and Jonas got together with Serendipity Innovations and entrepreneur Mårten Hellberg and founded OrganoClick AB.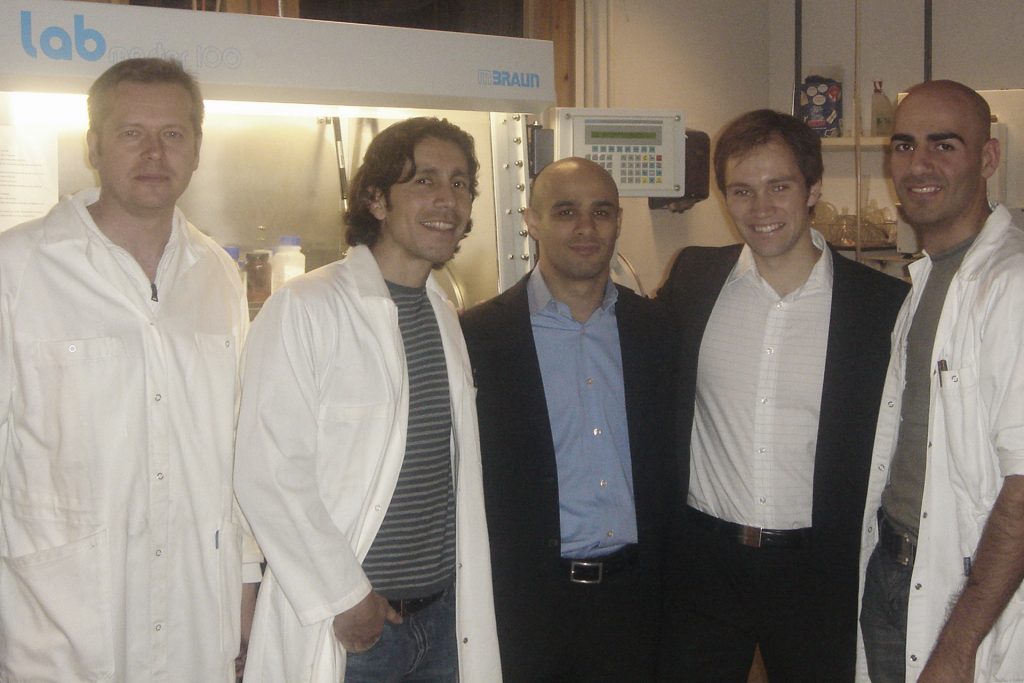 2006: OrganoClick is formed.
OrganoClick is founded by Armando Cordova, Jonas Hafrén, Mårten Hellberg and Serendipity Innovations. Mårten is appointed CEO.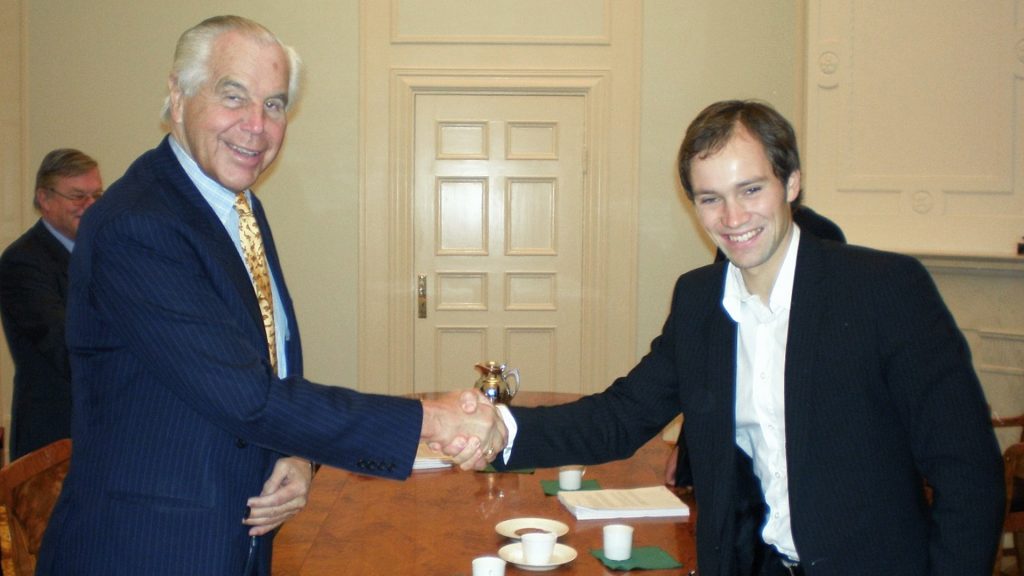 2007–2011: customer collaborations, product development, our first investors and innovation awards.
In 2007, we initiated collaborations with several industrial customers to develop products based on our technologies. We launched a dozen projects with various industrial customers active in cellulose-related industries such as wood, paper, nonwoven and textiles. After many years of product development, three of these projects led to the company's current product portfolio consisting of OrganoWood® wood protection, OrganoTex® textile impregnation, OC-BioBinder™ binder for nonwovens. In 2008, we moved to our first premises at Teknikhöjden next to the KTH Royal Institute of Technology in Stockholm, where we built our first lab.
Swedish investor Anders Wall, (through Beijerinvest AB), former TetraPak president and CEO, Bertil Hagman, TetraPak and SCA Hygiene Products' former technical director Claes-Göran Beckeman became OrganoClick's first investors and joined the company's board of directors.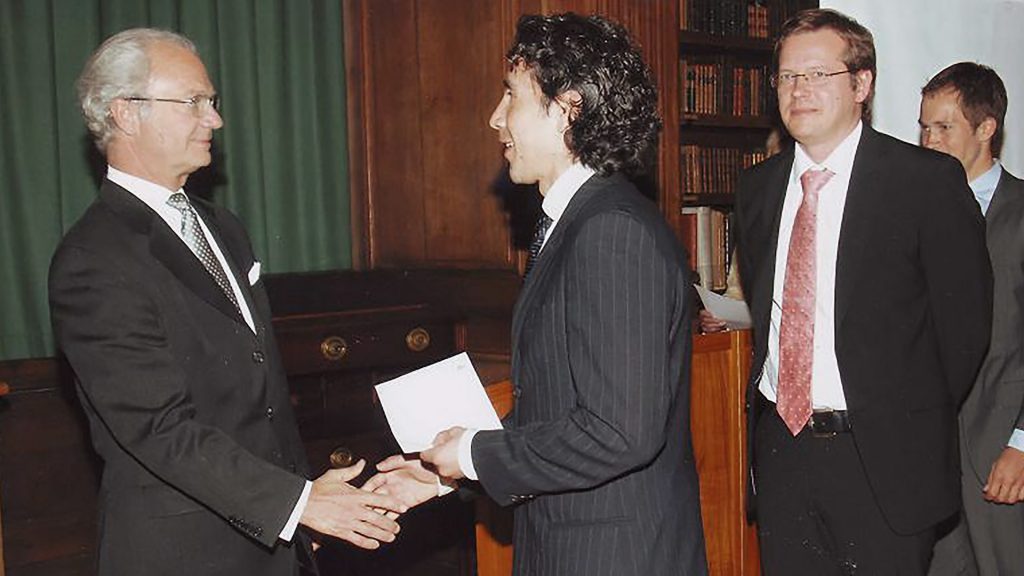 OrganoClick generated widespread attention for its green chemical technology and wins several awards, including one from King Carl XVI Gustaf of Sweden's 50th anniversary fund for science, technology and the environment. We were named Sweden's most promising start-up in 2008, and our technology was named Sweden's top environmental innovation in the same year.
In 2010, we completed the development of our new silicon-based wood protection technology, which is designed to replace heavy metals used in the pressure impregnation of wood. We establish our product company – OrganoWood AB – together with investment company Kvigos, (OrganoClick 60%/Kvigos 40%), to start sales and marketing of our new wood protection technology. A collaboration is initiated with Bergs Timber Bitus, (the Nordic region's largest pressure impregnation company), to industrialize the product.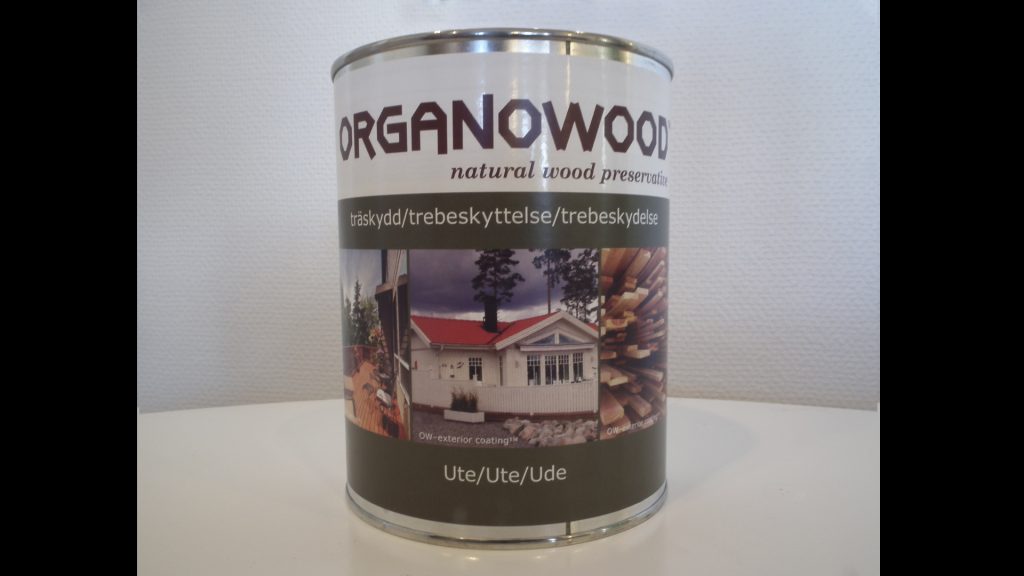 2011–2015: sales and production start.
In 2011, we moved our operations to Täby, north of Stockholm, where we set up our first small production unit together with a new R&D lab and office. We began production of our first wood protection product, OrganoWood® wood protection, which is sold as a consumer product through building materials chain XL-BYGG – the company's first customer.
In 2012, OrganoWood®-modified wood is launched, which is manufactured together with Bergs Timber Bitus in Nybro. In addition to XL-BYGG, OrganoWood signs a reseller agreement with Optimera, a Swedish construction products retailer that is part of St. Gobain Distribution, Bygma Group and 2013 K-rauta. We begin to build up a sales organisation that starts to target the Swedish, Finnish and Norwegian construction markets. OrganoWood also wins several prestigious contracts with construction companies including Skanska, NCC, PEAB and JM. In 2014, OrganoWood was also named "the hottest building material of the year" with a Nordbygg gold medal – the Nordic region's largest professional construction fair.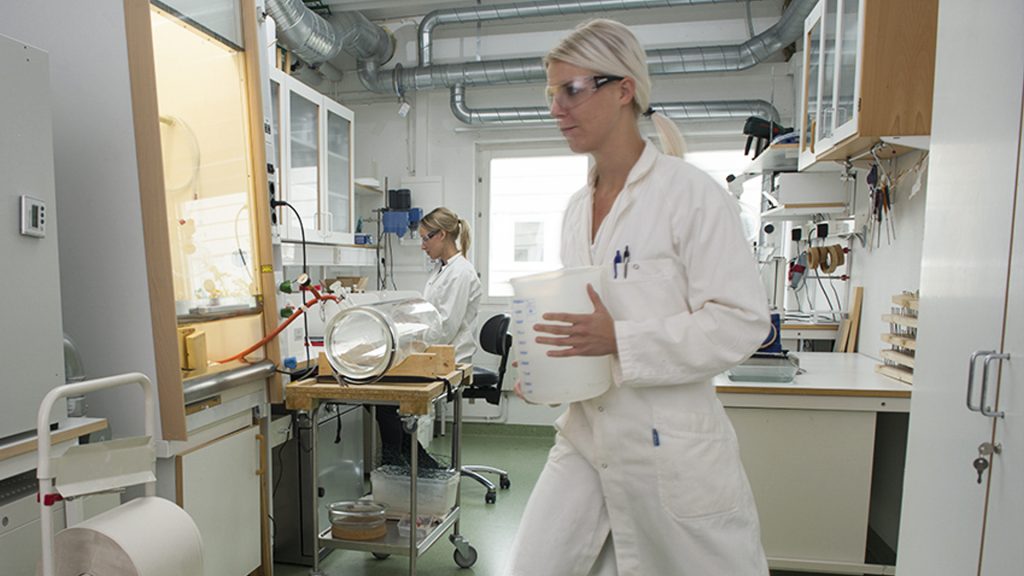 In addition to OrganoWood, a number of other products have begun to take shape based on the industrial projects started in 2007-2008. In 2012, we launched our first version of OC-BioBinder™, a new biobased binder for nonwoven and technical textiles. Swedish textile company Almedahls is our first customer following the launch of our bio-based and biodegradable OC-BioBinder.
Also in 2012, we launched OC-AquaSil™, a new fluorocarbon-free water-repellent technology for textiles, wood and paper. For customers in the textile industry, we market this technology as OrganoTex®. In 2013, OrganoTex® was selected as one of the most interesting new materials at ISPO Munich, the world's largest outdoor and sports product fair. In 2015, FilippaK became the first Swedish brand to launch a coat impregnated with OrganoTex. Collaborations were also initiated with several other sports and outdoor brands.
In 2012, a collaboration was also initiated with the Nordic region's leading manufacturer of coffins, Fredahl Rydéns, to develop a 100% bio-based funeral coffin in biocomposite. OrganoClick and Fredahl Rydéns received EU funding through the Eco-Innovation programme to develop a new biocomposite material and a coffin made from the material. To manufacture such a product, we need to develop a completely new fibre casting production technology. In 2014, a new production line was in place at our new production facility in Täby. In 2019, after seven years' development, the world's first fiber-cast coffin – made from our biocomposite material OrganoComp® – is launched.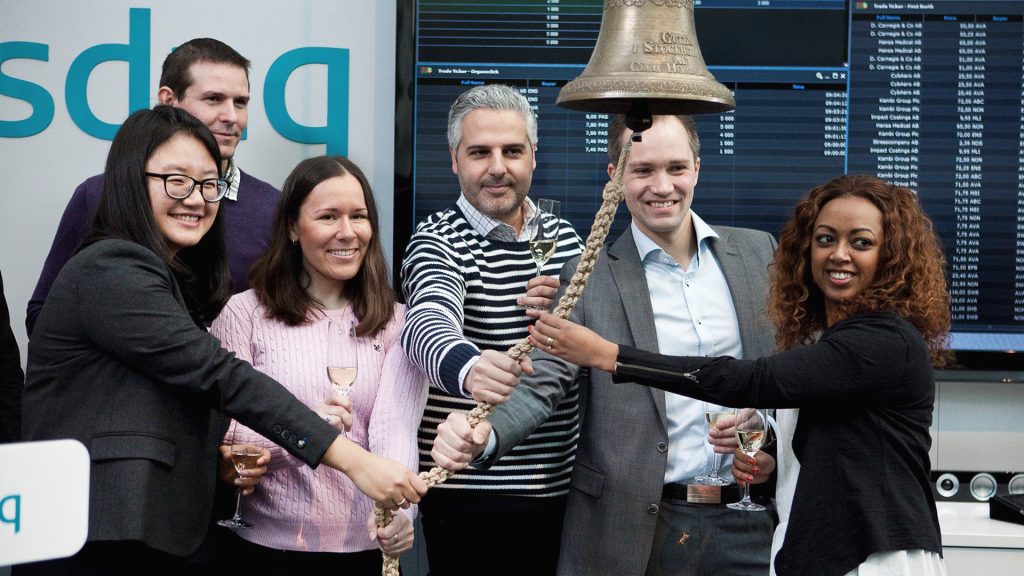 2015–2020: expansion, scaling up and stock market listing.
In 2014, three years after we started selling our products, OrganoClick Group sales hit SEK 20 million. For our expansion to continue, we needed a larger production facility. Construction of a larger, better equipped production facility began in 2014. The new plant has a total area of 4,000m2, a chemical formulation capacity of 10,000m3, and a new production line for fibre-cast biocomposites. To finance the new facility and to our expand sales and marketing activities, we listed the company on the NASDAQ First North, raising SEK 75 million in capital.
Interest in environmental technology surged after the 2015 UN climate conference in Paris, where OrganoClick was named a Sustainia100 Company as one of the 100 most sustainable technology companies globally. In 2017, OrganoClick was also selected for the Unreasonable Goals programme, which aims to accelerate the achievement of the UN's 17 Sustainability Development Goals.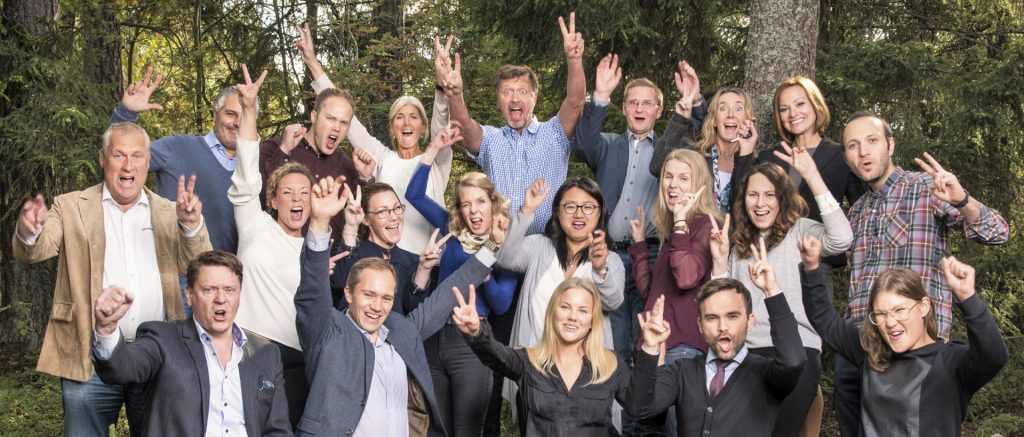 We expanded rapidly in the years that followed, with the launch of OrganoWood in the UK, Ireland and Denmark. In 2016, we also acquired Biokleen Miljökemi AB, adding a product portfolio consisting of sustainable chemical products for the maintenance of homes and premises that complement our OrganoWood wood protection system. In 2019, Fredahl Rydén's coffin Saga – manufactured with our OrganoComp biocomposite – is launched. Baux then launched the OrganoComp sound-absorbent acoustic panel. Our rapid expansion resulted in OrganoClick being named by Swedish business periodical Affärsvärlden and Deloitte as a Technology Fast50 company, a list of Sweden's 50 fastest growing technology companies.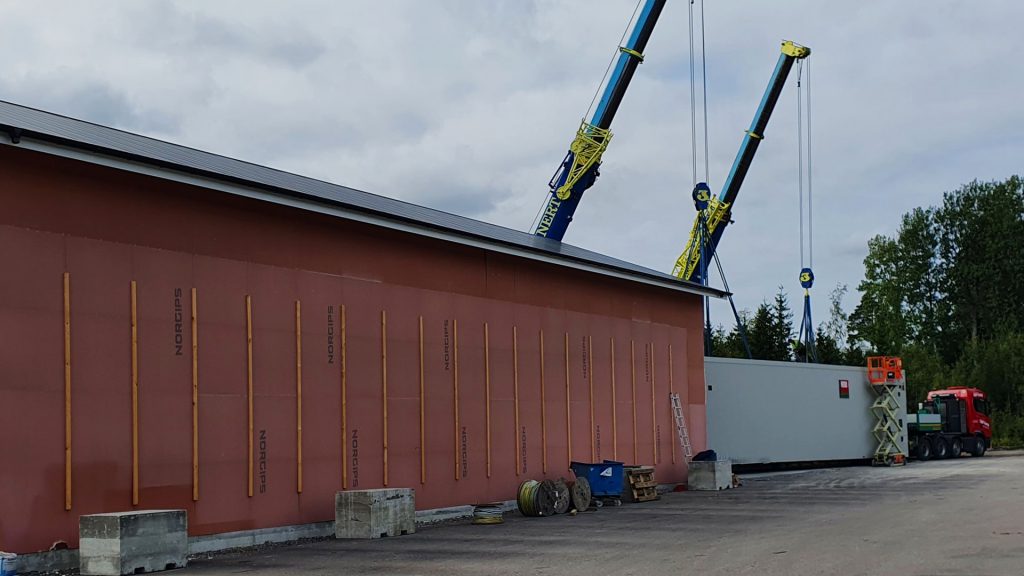 In parallel with OrganoWood's sales growth, several development projects are underway with large nonwoven manufacturers regarding OrganoClick's biobased binders. Nonwoven manufacturers are looking for ways to replace existing plastic binders in nonwoven materials with 100% bio-based, biodegradable and plastic-free nonwoven materials. In 2018, the first two nonwoven manufacturers launched eco-products based on OrganoClick's adhesives.
In 2018, the EU published its plastics directive with the aim of phasing out plastics from disposable products for the consumer market. This has significantly increased interest in OrganoClick's biobased binders. Several new projects have been initiated with the world's leading nonwoven manufacturers. The first of these major agreements was signed early in 2021 with Duni, which will phase out plastic binders from their premium napkins.
Interest from Western outdoor brands in our textile impregnation OrganoTex has also increased. But given that almost all production takes place in China, sales activities and industrial implementation are challenging. We have therefore developed a re-impregnation product that can be used on clothes by consumers or professional textile impregnation companies. In 2018, we launched a product that is sprayed on to fabrics and that can be machine washed through outdoor clothing chain Naturkompaniet. Growth was rapid and in just two years, the number of dealers selling the product increased to 150. We have expanded the product family with detergents for sports textiles and shoe care. In 2020, our international expansion continued into the rest of the Nordic and Central Europe.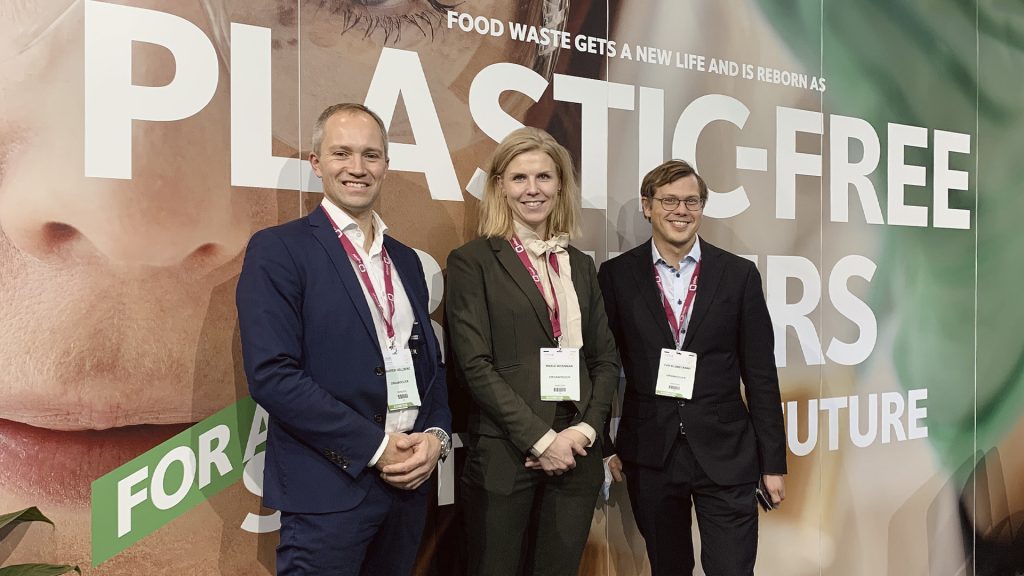 From 2015 to 2020, our sales jumped more than 200% from SEK 30 million to almost SEK 100 million and we increased the number of our employees from 20 to 50. In 2021, we exported our products to more than 15 countries and manufactured several thousand tonnes of green chemical products. We are now structured into four business areas with a central production function. As interest in our products grows sharply, we have decided to double the capacity of our plant to 20,000 tonnes. The future looks green, it has to!
Performance materials.
Inspired by nature.